DIFFERENCES BETWEEN 308 WIN AND 6.5 CREEDMOOR
308 vs 6.5 Creedmoor Barrel Life
While the two cartridges have a very similar case capacity, throat erosion occurs faster with the 6.5 Creedmoor because it uses a smaller diameter barrel. Simply put, burning the same amount of powder in a smaller space will result in shorter barrel life.
This means that, in general, the 6.5 Creedmoor will simply wear out barrels faster than the .308 Winchester will. Exactly how fast that occurs depends on several factors like the quality of the barrel, the exact ammunition used, etc.
For serious target shooters, this is a concern. However, the good news for hunters is that typical 6.5 Creedmoor barrel life of 2,000-3,000 rounds is more than enough to last for many, many years of hunting with no issues at all.
So, there is basically no practical difference in 6.5 Creedmoor vs 308 Winchester barrel life as far as most hunters are concerned.
6.5 Creedmoor vs 308: Ammunition Selection
The .308 Winchester is extremely popular among hunters and shooters in the United States and consistently ranks as one of the bestselling cartridges in the country. The 6.5 Creedmoor is no slouch in this regard, but it still cannot hold a candle to the .308 in terms of widespread use. Even so, the cartridge seems to be steadily growing in popularity, but only time will tell if it becomes as popular or widespread as the .308 though.
The big ammunition manufacturers like Barnes, Berger, Black Hills, Federal Premium, Hornady, HSM, Norma, Nosler, PPU Remington, Sellier & Bellot, Swift, and Winchester all produce a number of high quality 6.5 Creedmoor, and .308 Win factory ammunition suitable for hunting. Prices and availability vary from region to region, but ammunition for both cartridges is very common. The .308 Winchester is a much easier to find and a little less expensive than the 6.5 Creedmoor though.
Reloading components for all both cartridges are also widely available so making custom handloads is not too difficult for either cartridge.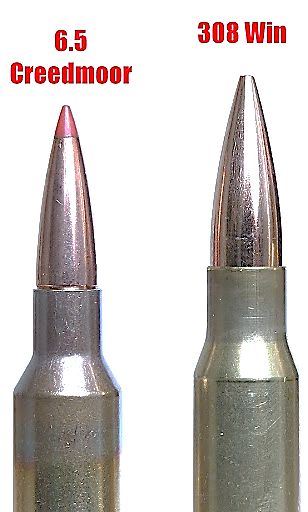 Do you primarily hunt medium sized game like deer, feral hogs, or black bear at ranges within 200 yards?
Both cartridges with absolutely get the job done if you do your part and there isn't much of a difference between them ballistically inside of 300 yards. Go with the .308 Winchester if you want the cheapest or easiest to find deer hunting ammo.
Are you interested in the better cartridge for hunting game like mule deer or pronghorn in open country where you might need to take a shot at several hundred yards?
Both will also work in this role, but the 6.5 Creedmoor has a flatter trajectory, will drift less in the wind, and still carries enough energy out to 400-500 yards to cleanly take deer sized game without any issues.
Do you prefer to use a semi-automatic rifle for hunting or want a battle rifle for personal defense?
Go with the .308 Winchester as there are many more quality rifles available in this cartridge than the 6.5 Creedmoor.
Are you sensitive to recoil?
Go with the 6.5 Creedmoor. This cartridge is especially well suited to new, small framed, and or recoil shy hunters. Indeed, a good rifle chambered in 6.5 Creedmoor is a great gift for a hunter who is just getting started.
Are you a serious long-range shooter searching for the cartridge best suited for target shooting out to 1,200 yds or so in a precision rifle?
Again, go with the 6.5 Creedmoor, which really stands head and shoulders above the .308 Winchester for long range precision shooting.
Do you want a cartridge well suited for elk, moose, caribou, kudu, eland, or red stag hunting?
Especially when using heavier bullets, the .308 Winchester wins hands down here due to the big advantage the cartridge has in in frontal surface area as well as energy under 200 yards.